Meaningfulness and motivation:
Microcommunities and mobs
On Fornication And Genetics in The Breedster Age
Abstract
Is the mob a portable artwork? Is it DIY? The mob makes you think about why you're doing it.
Inherent human search for meaning.
A genuine transformation of space.
And political--can all these people be wrong?
The post-21/4 fear of suspicious activity in public spaces.
Questions about the ethnicity of the mob.
Form vs. function: mob vs. microcommunity
Functional ecology of symbiotic relationships in microcommunities.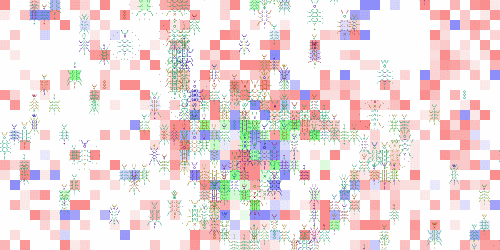 Background material
The first flash mob
'Y-power @ 0,0' flash mob
'Newt', a diverse, sustainable tribe
'Perik' flash mob
'OT' flash mob
'Eat Your Heart Out' flash mob
'Eat A Breedster Out' flash mob
Note: all animations are DivX encoded, hourly Grid snapshots at 10 fps.
Tiles are 10x10 pixels, members are displayed at 50% their original size.